In January many of us kick off the new year with vows to get healthy, eat better, and exercise more.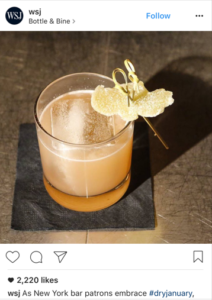 But more and more people are also resolving to cut down on drinking during January, or cut out alcohol altogether, as part of their fresh start. In fact, "Dry January" has become a wide-spread custom in some countries in recent years. In the U.K., the charity Alcohol Concern has run an official Dry January campaign since 2013, urging people to pledge to give up drinking for the month.
Whether it's to make up for the excesses of the holiday season or to turn over a new, more sober leaf, experts say quitting alcohol for a month really can improve your overall health.
In the short-term, people who give up alcohol for 30 days report better sleep and concentration, and tests show even a few weeks of abstinence can reduce cholesterol and glucose levels. And since a couple of glasses of wine can add as much as 300 calories to your daily intake, it's not surprising that many people also report losing weight just from cutting out booze.
Even when people return to drinking after their dry month, many report that they drink less than they had in the past, suggesting that a break from alcohol can help instill healthier drinking habits. But experts also caution that the best way to see lasting health benefits is to moderate your alcohol consumption the whole year long, not just in January.
Would you consider giving up alcohol for a month?

The post Can Going Dry in January Really Improve Your Health? appeared first on Sobering Up.

Sobering Up